Earth Wind and Fleece is a small, family owned farm, garden, and fiber arts studio conceived in 2009 to fulfill dreams and nurture spirits. We honor the earth and all livings things, and revel in the synergy of life on the farm. Everything is free to be and everything has a purpose.
​
The enchanting alpacas produce fiber which serves as a starting point for our fiber arts;
The cows assist with pasture maintenance through grazing and fertilizing and remind us to slow down and relax; and
The cats serve as "green rodent control" in the barn and share their love vibration via their constant purr.
​
We are thankful for the abundance of fresh air and sunshine, and our ability to create and maintain this small piece of the earth. We hope to expand and provide a loving forever home for more animals in need, and create products and art that bring you joy!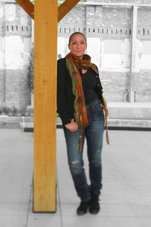 ​​
Hi, I'm Susan Trask - nature and animal lover, and fiber artist. I hand-dye our alpaca fiber and yarn, along with other fibers and fabric, and create functional and wearable art. My focus is really on my felted scarves; art you can wear! The scarves are a diverse and expressive fusion of color and texture, reflecting something about those who wear them: free-spirited, dramatic, confident, flirty, colorful, fashion-forward...
Felting is a magical tactile experience that provides me with endless opportunities for satisfying my creative spirit. I'm fascinated by many things, including energy, and color. Transforming a pile of fibers into coherent textiles amazes me every time. I use wet felting techniques and "laminate" layers of fiber and other embellishments to create color, patterns and textures. My work is free-form, fluid and intuitive. I rarely begin with a preconceived end in mind. My hope is that when you view my work, something awakens within you, touches your spirit, and enriches your world. See samples of the scarves and how I make them under WHAT WE CREATE.
---